Merry Christmas everyone!
Today I am back to share a festive project with you created for The Cut Shoppe! I wanted to create my own top to wear to work on my last day for the year and the Tis the Season cut file set was perfect for it!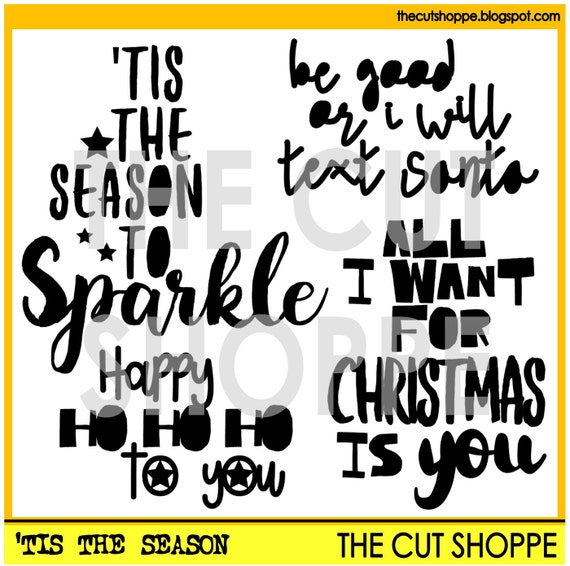 Once I had traced the cut file, I wanted to see what the colours would look like in the software, so I filled the words and stars in to match with the green, red and gold glitter vinyl colours I had chosen. This is a great way to get an insight to how your finished product will look! See below a screenshot of the colours filled in.
You may notice that I moved the bigger star to the right hand side instead of the left where it was in the original design. I also moved the word 'season' so that it sat more in the centre.
I released the compound path in the design software so that the words were separated and I could group and cut the same colours on the appropriate sheet of vinyl as you can see below. MAKE SURE YOU MIRROR YOUR DESIGN IN THE SOFTWARE for heat transfer vinyl as you have to load heat transfer vinyl upside down in the machine.
Once everything was cut, I weeded out the unwanted pieces of vinyl so that just the words and shapes that I wanted were left on the backing sheet. I laid them on to my shirt how I wanted the finished product to look being careful not to iron them onto themselves or onto backing sheet.
I then ironed them on using a hot setting on the iron with a thin tea towel in between the shirt and the iron. I checked if it had worked before I had finished by peeling up the corners of the backing sheet once it had cooled down a little bit.
Thank you so much for stopping by today! Merry Christmas and a Happy New Year to you and your family!