Hi creative friends!
It's Tarrah back with you and today I am sharing a new Summer themed layout created for Cocoa Vanilla Studio featuring the gorgeous Sunkissed collection! I have had this awesome photo of my Mum in the pool printed for ages and I took it especially to use with this collection! I am finally getting around to documenting it!
Free Cocoa Vanilla Summer cut files
I started by choosing some background patterned papers - I chose the sunset ombre paper for my main background and trimmed down the 'B' side of the Sunny Days paper. I adhered this piece to the centre of the sunset ombre paper and bent up the edges to create some texture. Next I chose one of the really colourful 3' x 4' cards from the journaling cards pack to add lots of colour and layered it under my photo. I placed my photo and arranged them it how I liked it, making sure to leave enough room for the cut file title at the bottom.
Next I cut out the Best Ever card from the Fun in the Sun paper (again I love the different colours in it) and placed it to the left of my photo. From plain white cardstock, I cut out the 'Hello Sunshine' title from the Free Summer cut files. I added foam tape underneath the cut file once it was cut out and adhered it to the bottom half of the Sunny Days paper. I overlapped some of the cut file on the photo and also on the Best Ever card. I love the shadows that are created on the page by adding foam tape under the cut file title.
Tip: If you want to break up the plain look of a cut file without getting messy with paint, add some small repetitive embellishments like the cute heart puffy stickers to add some small detail and colour without taking away from the cut file itself.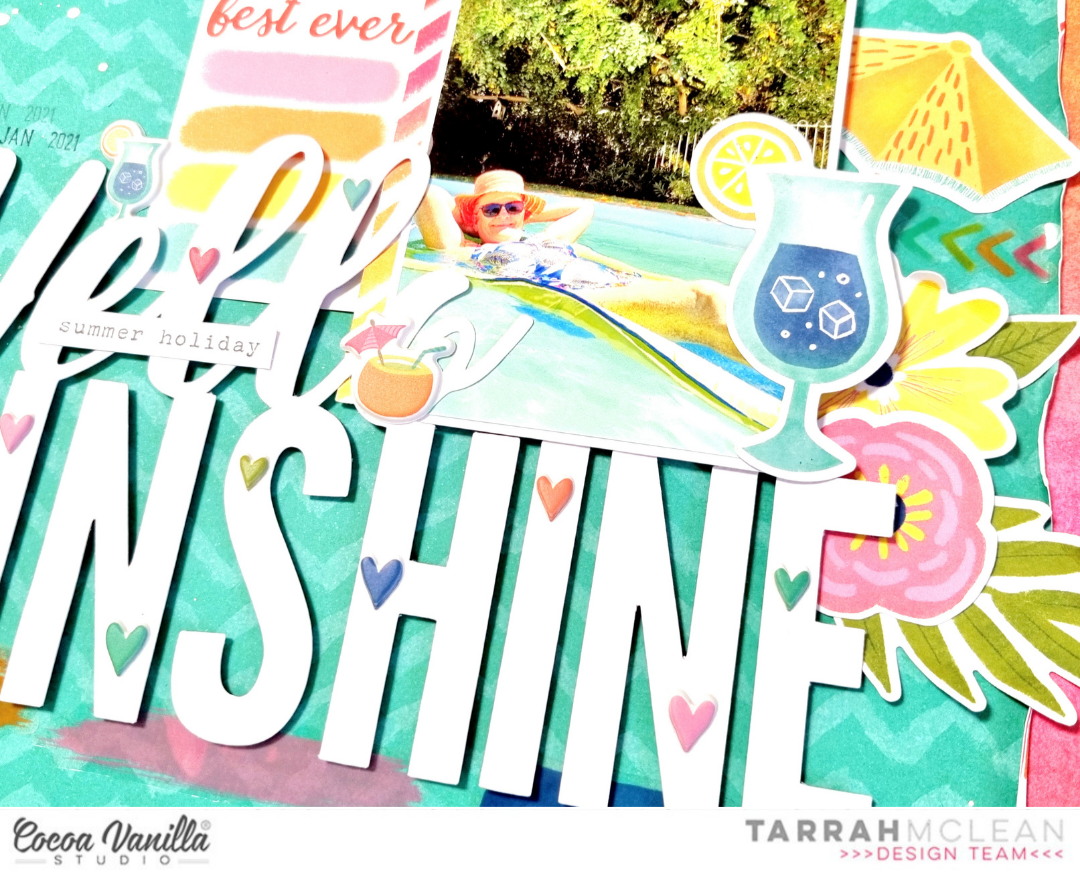 I couldnt go past adding some gorgeous florals from the Floral Ephemera pack I mean look at all those gorgeous colours! I tucked some into both the left and the right of the cut file title. I further embellished my page with clear stickers, more ephemera, accessory stickers, wood epoxy buttons and puffy stickers. Lastly I sprinkled some white mist on my layout and stamped the date stamp.
Thanks so much for stopping by my blog today! I hope you enjoyed my layout as much as I enjoyed creating it!?
Make sure to get yourself the AMAZING Sunkissed collection and get creating with it!
Happy creating!
Tarrah x